Planning Scheme
CENTRAL HIGHLANDS LOCAL PROVISIONS SCHEDULE
NOTICE OF APPROVAL – Draft Amendments 2023/01, 2023/02 & 2023/04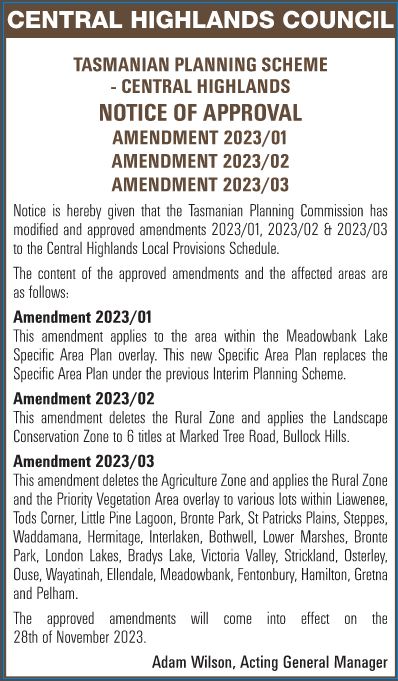 TASMANIAN PLANNING SCHEME – CENTRAL HIGHLANDS
The Tasmanian Planning Scheme is a single set of planning rules that will apply consistently across Tasmania through the State Planning Provisions (SPPs). The SPPs are applied in each Council through the Local Provisions Schedule (LPS), comprising of zoning maps, code overlays and local planning rules.
The Tasmanian Planning Scheme – Central Highlands (the combination of the LPS and SPPs)) formally came into effect for the Central Highlands Local Government area on 8 February 2023 and replaced the Central Highlands Interim Planning Scheme 2015.
The Commission decision on the Central Highlands LPS included a direction to the Planning Authority to prepare draft amendments under section 35KB(1) of the Land Use and Planning Approvals Act 1993. As a consequence Tasmanian Planning Scheme zones, general overlays and code overlays displayed in the LIST may not apply. Contact Central Highlands Council for further information.
The Tasmanian Planning Scheme – Central Highlands can be accessed online on the Tasmanian Planning Commission Website below.
PLANBUILD TASMANIA
PlanBuild is an online platform developed by the State Government to centralise information about development in Tasmania. It is an alternative way to access planning information for a specific property.
PlanBuild can be used to generate a property report providing relevant zoning, codes, maps and other information that affect the selected property. Simply click the link below and type in your property address to search.
ENQUIRIES
If you need assistance determining the planning rules that apply to a property please don't hesitate to contact the Development and Environmental Services Office for assistance by Email at development@centralhighlands.tas.gov.au
HERITAGE TASMANIA – WORKS & DEVELOPMENT
For information on how to seek approval for works to a place entered on the Tasmanian Heritage Register, please Click Here Heritage Tasmania