Dogs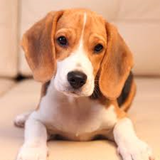 Dog Registration
Dogs must be registered in each financial year and under Tasmanian State legislation must also be microchipped. Council sets its annual registration fees in June, each year.
Life Time Dog Tags
From 1 July 2017 Central Highlands Council will be issuing 'lifetime tags' for your dog's registration. These new tags are a small metal disc with your dog's unique registration number and Council's contact number on one side, with the other side blank for you to engrave your contact details if you choose.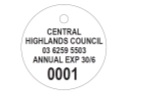 All you need to do is pay the relevant dog registration renewal fee, and your dog's new tag will be issued to you. This tag will stay with your dog for life and you will only be required to pay the renewal fee each year, much like registering your car!
Replacement tags are available through Council if lost or damaged, a replacement fee applies.
Microchipping
All dogs over the age of six month must be microchipped, unless exempt under Section 15A(2)(b) of the Dog Control Act 2000. Exemption applies to working dogs, specified racing greyhounds and hunting dogs that were registered with, and tattooed by, an "approved" hunting association before 1 July 2011.
Dogs that are microchipped can be identified and quickly returned to their family if lost.
Kennel Licences
Only two dogs over the age of six months, or up to four working dogs can be kept on a property without a kennel licence.
For more information on applying for a kennel licence, or any other animal management enquiries, please contact Central Highlands Council on (03) 6259 5503.
Dog Complaints
Complaints about stray dogs and noise nuisance should be forwarded to the Bothwell office 6259 5503.
ALL dogs in Tasmania, over the age of six months must be micro chipped.
On A Short Leash
UNDER the Central Highlands Dog Management Plan, a number of locations have been declared 'restricted areas'.
Dogs have to be on a leash or under effective control at all times and Council has installed signage displaying the regulations in those areas.
Similar signage is being erected in localities where dogs must be on a leash not exceeding two metres, or under effective control.
PDF's for Download