Steppes
Steppes Hall & Sculptures
The Steppes Historic Site is located on the Highland Lakes Road (A5), about 35kms north west of Bothwell.

The home of the Wilson family for 112 years from 1863, The Steppes was the focal point for life in the area and intertwined with the growth of sheep-grazing in the Central Highlands.

Stock was driven up to the higher lands from the lowland paddocks around Bothwell and Ouse during the summer months and a series of accommodation paddocks, still used to day, were provided en route for sheep to rest overnight.

This State reserve of 48 hectares not only protects the sites historic buildings, but also ensures that stories about a way of life - now largely gone – are carried into the future.

The reserve can be accessed by visitors at any time, though the interior of the homestead and some of the outbuildings are locked and can only be viewed on open days.

The Steppes are about a one and a half hour drive from both Hobart and Launceston.

In fine weather conditions, the site is a pleasant location for bush picnics.

The Steppes Church Hall was built in 1911 and was the centre of social activity as well as a place of worship. The hall is now owned and managed by the local community.

Located about one kilometre south of the Steppes homestead are the Steppes Stones featuring sculptures of Highlands life and wildlife that were a gift of sculptor Stephen Walker and his family.

The works have been, "dedicated to those who share in the love and care of the Highlands of Tasmania, from the past to the future."
---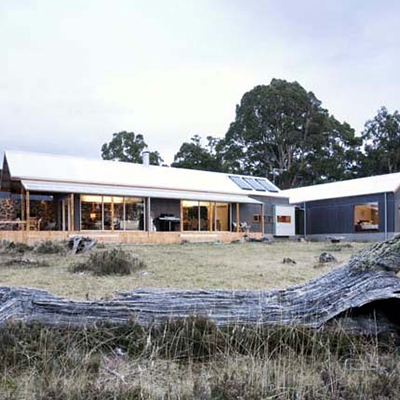 Herne Lodge - Private Deer Hunting Lodge
Guided Fallow Deer Hunting in Highlands Tasmania.

Are you looking for a new hunting experience in wild Highlands Tasmania? Herne Lodge is the first and only deer hunting lodge in Tasmania that offers on-property access to wild fallow deer, luxury accommodation and expert guiding.

The hunting ranch has 2,500 hectares of private land where you can go wild. Herne Lodge is on St Patricks Plains, at the Steppes, in the heart of the wilderness of the Central Highlands of Tasmania and in easy distance of renowned fly fishing waters and World Heritage areas.
---