Public Notices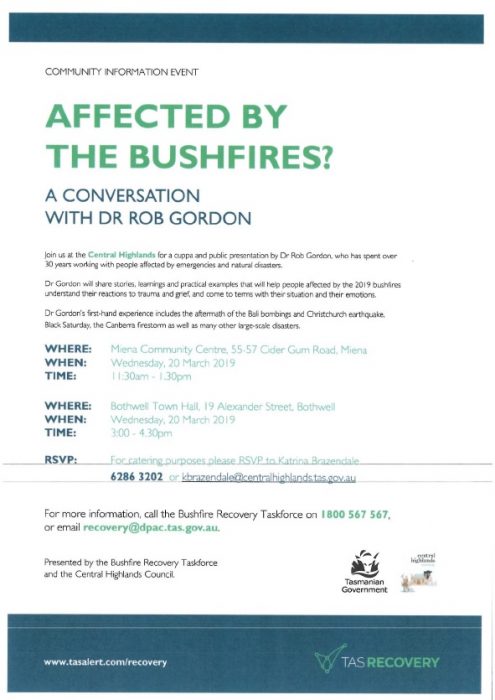 BUSHFIRE IMPACT ASSESSMENT
Are you a primary producer returning home after the bushfires?
The Department of Primary Industries, Parks, Water and Environment (DPIPWE) AgriGrowth Division would like to hear from you.
Any information you can provide about the impacts of the fires on your stock, produce or infrastructure will help us understand and assess the impacts of the current bushfires on the agricultural industry.
We know that this may be a difficult time for you and appreciate any information that you can provide. Please contact DPIPWE's AgriGrowth Liaison Officers on 6777 2233 or email Agrigrowth@dpipwe.tas.gov.au DPIPWE can also assist you with other information and support.
Livestock affected by fires
If you have animals remaining on a property that was directly affected by, or close to bushfires, you will need to consider their health and condition, and take action if required.
Indications that animals are suffering and require attention include:
• Weeping or reddened eyes
• Difficulty breathing
• Obvious damage to skin, hooves or feet
Check for teat injuries and young stock being unable to feed. Some injuries may get worse over several days, especially injury to hooves or lungs, and animals should be monitored daily.
Your local veterinarian would be the best placed to help manage or treat injuries to companion animals or livestock. DPIPWE will be available to help with assessment of burnt livestock, and euthanasia if necessary, and can help you find a service to help you deal with your animals impacted by the fires. Contact DPIPWE on 6165 3263
Freight subsidies for primary producers
As a primary producer you may also be eligible for a freight subsidy. Freight subsidies are now available to assist primary producers impacted by the recent Tasmanian bushfire with the transport of livestock, fodder, water, equipment and materials directly associated with their business of primary production.
Freight subsidies are being jointly funded by the Commonwealth and Tasmania under the Disaster Recovery Funding Arrangements. For more information and to apply visit: https://dpipwe.tas.gov.au/about-the-department/bushfire-information/freight-subsidies-for-primary-producers
*Please note that eligibility conditions apply.
Expected Delays on Waddamana Road
Due to the works that are currently being undertaken by Gradco to improve Waddamana Road for the Cattle Hill Wind Farm, please be advised that there may be some expected delays when travelling this road. We appreciate your patience with this matter.