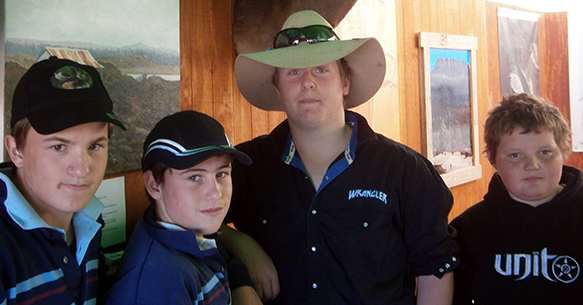 WEEKS of work by a small, but enthusiastic group of Bothwell District School students will be further rewarded when the Highlands Lodge they built for AGFEST 2013 becomes the focal point of local excellence at the first-ever Highlands Bushfest.
The traditional timber lodge, designed and constructed at the school in 22 panels and then re-erected at AGFEST inside Central Highlands Council's marquee, was a genuine talking point and refuge for many visitors to the event during inclement and windy weather.
Bedecked in displays of Highlands locations, its hunting, shooting, fishing heritage, and exhibiting crafts and produce, the lodge was a popular and welcoming meeting place.
After an award-winning debut in 2012, Central Highlands Council opted to make a statement about the glory of the region, with banners, films and brochures featuring locations from Derwent Bridge to Gretna and Miena to Westerway.
And, like, last year, tourism operators and Highlands businesses offered accommodation and meal vouchers and other gifts worth thousands of dollars for the popular prize draws.
The lodge will be re-erected inside the primary marquee at Highlands Bushfest (November 16 and 17) and will house the very best in Highlands food and beverage and crafts.
"It will be a showcase for Highlands businesses to exhibit their wares. We are encouraging anyone who wants to take part to book early," said Mayor Deirdre Flint OAM.
SO encouraged by their success, were students that they have said, they soon want to undertake another project.
And, they will not have wait too long, with Central Highlands Council commissioning a shelter for a camping ground.
But first, the structure will be an exhibit housing demonstrations at the Highlands Bushfest.
"The kids are chomping at the bit for another go," said teacher Ken Orr, who oversaw their AGFEST project.
"It was a valuable experience for them to carry out a job through to construction."
Council has allocated funds towards raw materials for the second school project.
Councillors also earmarked $20,000 towards the extension of facilities at Bothwell camping ground, including a landscaped barbecue area – beyond the tennis court, which will be retained – and a designated area for tents, and possibly more powered caravan sites.