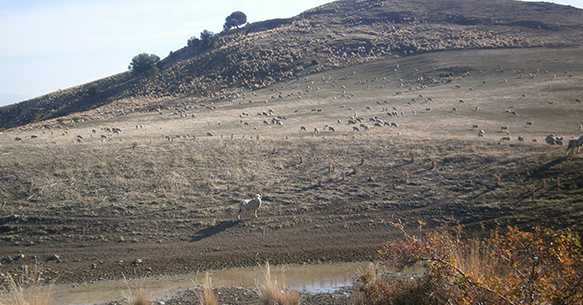 Central Highlands Council is seeking $14.35m from the Federal Government's Tasmanian Forestry Agreement Economic Diversification Funding for the construction of the Southern Highlands Irrigation Scheme which will drought proof a large area of the region and provide a secure town water supply to Bothwell.

It has also submitted an application for $360,000 as seed funding for the expansion of its Highlands Tasmania Brand into agriculture, horticulture, viticulture, aquaculture, small business and added value production and processing.
The branding is regarded as vital to leveraging the economic benefits of the Southern Highlands Irrigation Scheme which will lead to extensive diversification within farming and other sectors, and an anticipated $80m-$110m boost to the Highlands economy over five years.
Farmers and other potential users, including Central Highlands Council, have already committed $8m to the irrigation proposal, which will take two years to complete and commission, once funding has been achieved.
The Southern Highlands scheme is one of a number the Tasmanian Government has submitted to Infrastructure Australia for consideration, but with no guarantee of success, Central Highlands Council has made a direct call for the $14.35m to be drawn from the Economic Diversification Fund.
"Our research revealed businesses across the Central Highlands have lost more than $9m since the forestry downturn and stand to lose even more when the Tasmanian Forestry Agreement is implemented," said Central Highlands Council Mayor Deirdre Flint OAM.
"The Southern Highlands Irrigation Scheme will significantly transform the region's economy for ever and we cannot allow the opportunity to get it built to pass us by."
"The $14.35m we are campaigning for will merely compensate the Central Highlands' community for what it has already lost, and continues to lose, as a result of the devastation in the forestry industry," she added.
"It will not just save our communities, but build and strengthen them for the future," Mayor Flint said.
Southern Highlands Irrigator Group Chairman Richard Hallett said the scheme would create at least 25 jobs on-farm jobs once construction commenced as farmers geared up their businesses to take advantage of the 6,500megalitres of new water annually.
Additional jobs would also be created in freight and other services in the region.
"The scheme is also critical to the survival of Central Highlands' communities and the retention of critical services and facilities in health and education," Mr Hallett said.