Inland Fisheries Service and Tourism Tasmania are looking to boost the number of licensed anglers who choose to visit Central Plateau lakes several times of the year.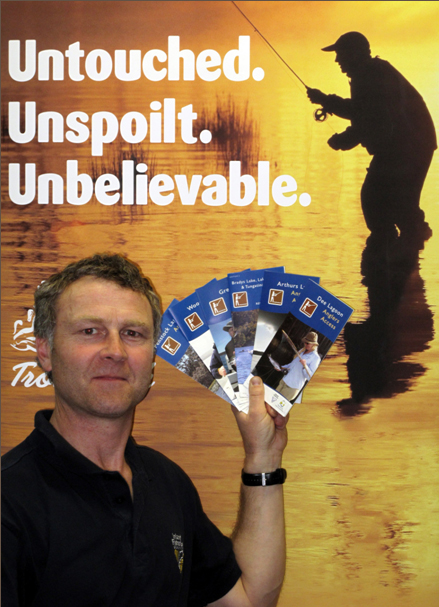 (Inland Fisheries Service Anglers Access project manager Neil Morrow, displays brochures highlighting the glories of the Highlands lakes.)
Of the 24,000 total registered anglers in Tasmania, 23,000 are fans of the Highlands lakes and 6,000 are from interstate, a significant proportion of whom are repeat visitors.
Fly in, fly out, anglers are significant contributors to the Highlands economy and there are also as many as 4,000 international anglers who arrive in Tasmania and fish on short term licences or at private fisheries.
Five out of the top six most popular lakes in Tasmania are situated in the Central Highlands and six out of the top 10.
Arthurs Lake (7,945); Great Lake (7,758), Woods (3,260); Little Pine Lagoon (2,773); Penstock Lagoon 2,286) and Brady's Lake (1,611) drew a total of 25,633 visits between them over the 2011-2012 season.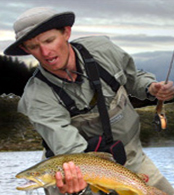 Inland Fisheries and Tourism Tasmania have now embarked on a joint marketing plan to increase those numbers with the publication of several brochures identifying facilities at different lakes in the Highlands region.
Through the Marine and Safety Tasmania Recreational Boat Fund, facilities have been upgraded at Lake Echo, Arthurs Lake and Great Lake, while safe river access has been improved on the Tyenna River.
Improved road access to Woods Lake that has been directly responsible for its elevation to one of the most popular venues in the region and a reason why Central Highlands Council is also upgrading the Arthurs Lake Road this financial year.
Lake Meadowbank, between Hamilton and Ouse, is popular for its Atlantic salmon fishing.